Microfluidics & Sequencing
February 1st, 6:00 – 9:00 pm, at Molecular Devices HQ in San Jose.
Details
Time: 6:00 – 9:00pm
Location:Molecular Devices, 3860 N 1st St., San Jose, CA 95134
Program:
6:00 pm:
Registration, networking and buffet
6:30 pm:
Keynote speaker 1: Dr. Brian Yu, Scientist, Chan-Zuckerberg Biohub
Keynote speaker 2: Dr. Rajiv Bharadwaj, Director of Microfluidics, 10X Genomics
Discussion with speakers: (Moderator) Dr. Don Arnold, CEO, Veristad
8:30pm:
Event Recap
On February 1st, Bay Area Microfluidics Network (BAM) held its third event, focused on the intersection of microfluidics & sequencing, at Molecular Devices' new headquarters in San Jose. The event was co-hosted with the Microfluidics Consortium MF9.2 meeting. BAM invited Dr. Brian Yu from the Chan-Zuckerberg Biohub (CZ Biohub) and Dr. Rajiv Bharadwaj from 10X Genomics to speak about their latest research and product development and share perspectives on the opportunities and challenges of microfluidics-enabled sequencing technologies.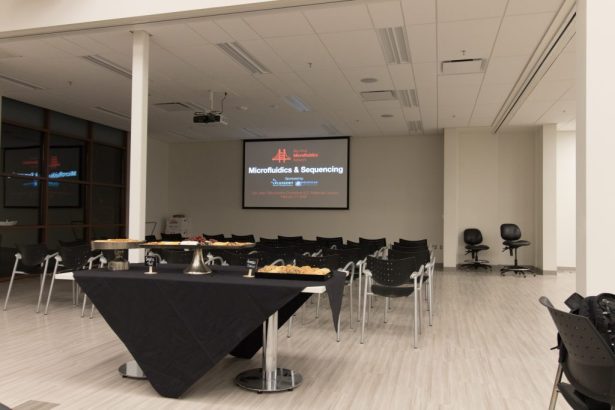 The night began with a hot buffet and networking in the newly furnished event center at Molecular Devices. Industrial professionals, postdocs, and graduate students from local universities including Stanford University, UC Berkeley, UCSF, and San Jose State University enjoyed the food, drinks, and meeting one another.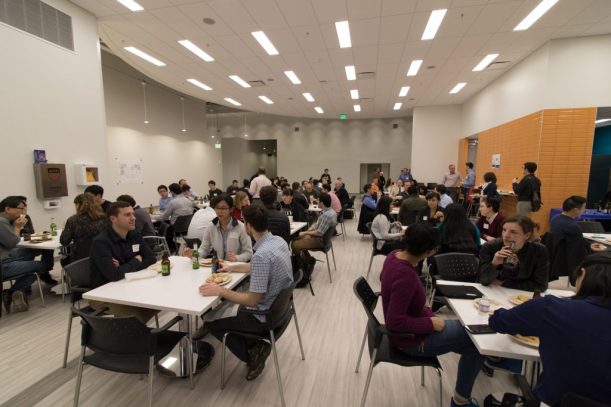 At 6:30 pm, BAM's founding team members, Yatian Qu, Thomas Carey, and Calum Marrs gave a brief introduction to BAM's organizing team, mission, the event program and how to stay connected with BAM. The event's co-host, organizer of the Microfluidics Consortium MF9.2 meeting and the CEO of Center for Business Innovation(UK), Peter Hewkin, spoke about the achievements and plans for MF 9 serial meetings.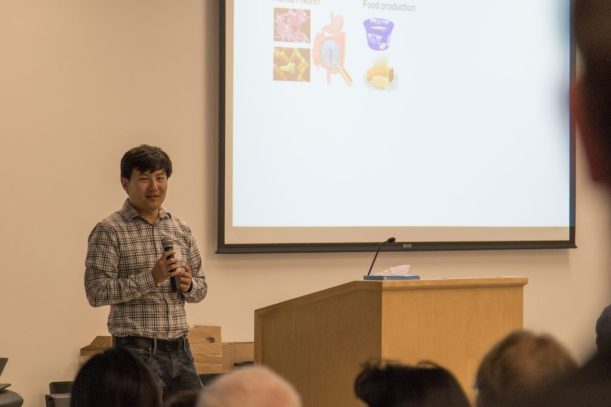 After the introductions by the organizing team, Dr. Brian Yu presented his work at CZ Biohub in a talk titled "Untangling metagenomes with microfluidics systems". He first introduced CZ Biohub and the research initiatives in which the organization is interested. He then talked about his research on using microfluidic technologies to develop and optimize system-level methodologies to explore and to understand how microbial communities form, survive, evolve and remain robust in changing environments. After Dr. Yu's presentation, Dr. Rajiv Bharadwaj gave a talk titled "Changing the definition of sequencing: drop by drop". He introduced exciting production developments enabled by proprietary "GemCode Technology" (a microfluidics-based partitioning and barcoding technology) at 10X Genomics and their applications in genome/exome sequencing and single cell analysis.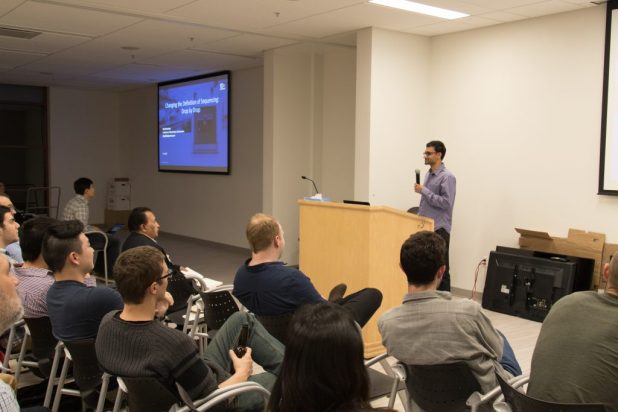 Inspired by the two presentations, Dr. Don Arnold, the CEO of Veristad (a technical and business consulting company), directed a forty-minute interview-style conversation with the two speakers. Dr. Arnold started by asking Dr. Yu and Dr. Bharadwaj deeper questions regarding their perspectives on microfluidic-enabled sequencing technologies and studies. He then invited the audience to participate in an interactive discussion.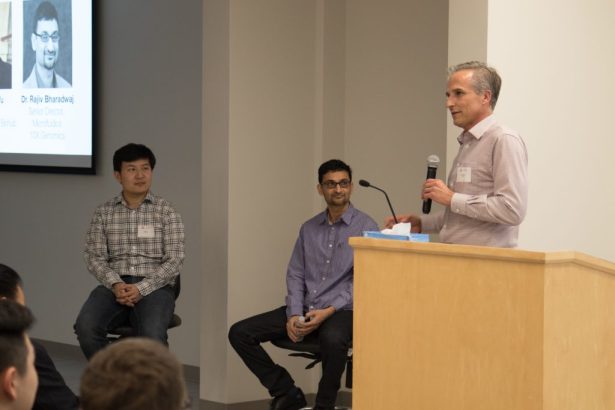 The event ended with a fruitful discussion between speakers and the audience, and participants enjoyed additional networking time with drinks at the event center.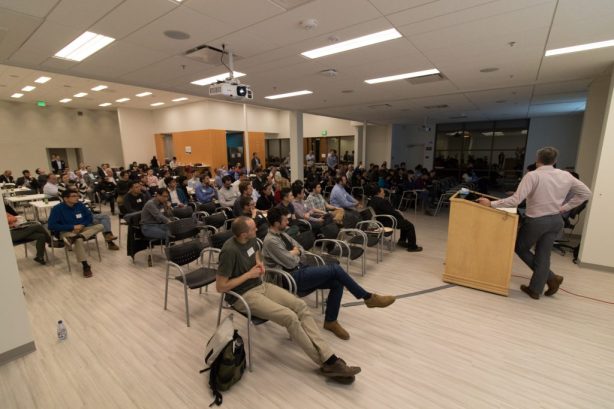 BAM's Microfluidics & Sequencing event at Molecular Devices was a great success. Attendees gave highly positive feedback and expressed a desire to participate in future events. BAM would like to thank Fluigent and Molecular Devices for sponsoring this event, Dr. Don Arnold for his invaluable assistance with logistics, and the Microfluidics Consortium MF9.2 meeting for co-hosting and participating in the event.
Speakers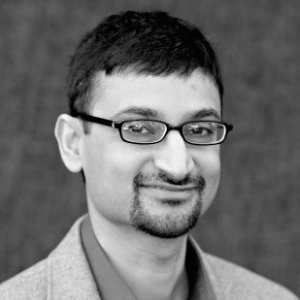 Dr. Rajiv Bharadwaj
Rajiv Bharadwaj is the Senior Director of Microfluidics at 10x Genomics. He leads a group of extremely talented engineering geeks to develop elegant products for single cell and genomics analyses. Rajiv earned his Ph.D. from Stanford University and has worked in the biotech industry for ten years with previous roles at Caliper Life Sciences.
Dr. Brian Yu
Dr. Brian Yu recently joined Chan Zuckerberg Biohub, where he works with faculties from Stanford, Berkeley, and UCSF to establish a microbiome initiative focused on understanding how microbial communities affect human health. Prior to joinging CZ Biohub, Brian obtained his B.S. in electrical engineering from Caltech and received his Ph.D. training at Stanford University under the joint supervision of Dr. Mark Horowitz and Dr. Stephen Quake. During his Ph.D., Brian developed a microfluidic-based metagenomic method and used it to identify novel microbial phylogenies from environmental samples. In addition to microfluidics and metagenomics, Brian was also involved in setting up automated liquid handling capabilities for a single-cell RNA-seq pipeline and became an expert in all steps of the high-throughput sequencing process, including sample preparation, sequencing, and bioinformatics analyses. Scientifically, Brian Yu is interested in developing and optimizing system level methodologies to explore and to understand how microbial communities form, survive, evolve, and remain robust in changing environments. In particular, he believes that microfluidic technologies offer unique advantages at various sample and library preparation stages. However, simple user experiences and robust operations are key technological challenges.
BAM hosted this event in collaboration with Microfludics Consortium 9.2: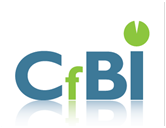 This event was generously sponsored by: